In March 2023, we upgraded what you can export directly from your Aspire Account. Below is a list of what you can now export:
Account Statements
Budgets Data
Cards Data (including Employees who can download their own Cards data)
Invoices Data
Claims Data
Expenses Data
Bills
Whenever you need to export data just look for the

button on the top right-hand side and click. You will then see "Export data".
You will then be taken to the Export data page.
This page can also be found under ACCOUNTING, Export Data.
Once you're on the Export Data page you can apply filters and select the export format.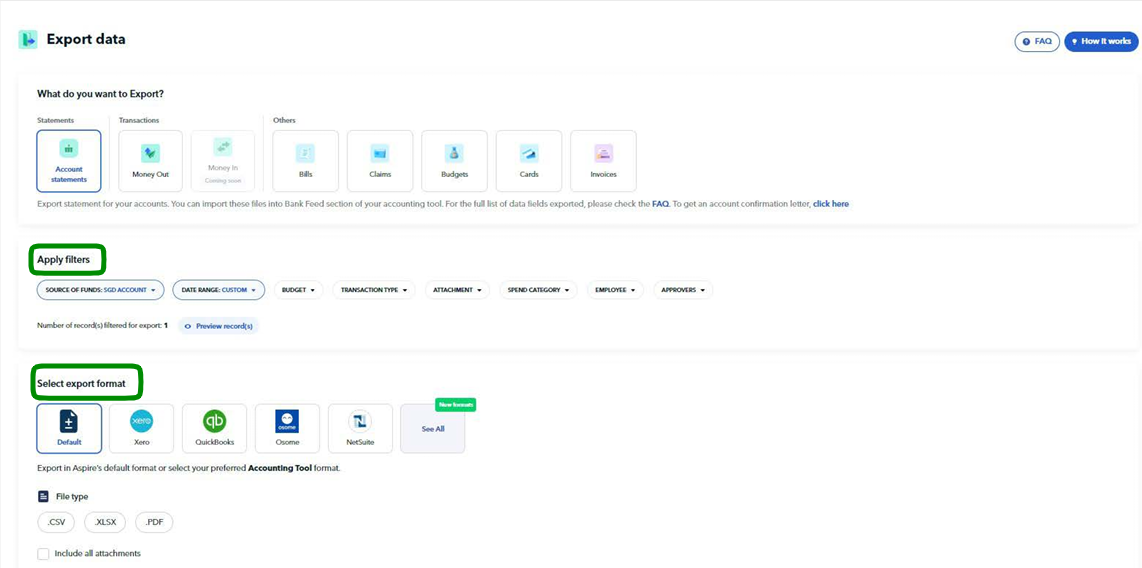 Select the filter you require and the export format that suits your business needs. You can preview it before you export!
A few things to note:
Admins and Finance Users can export everything
Employees can only export their own transactions data
Exports are instant unless the transaction records are larger than 500 rows, if that is the case it will go to your email.
If you don't see your export straight away, do wait 60 seconds and then check your email. It may have been too large and been sent to your email instead
Below is a list of articles relating specifically to data you can export:
Questions? Please let us know here or chat with us during business hours (Mon - Fri, 9AM - 5.30PM SGT) by clicking on the green chat bubble on the lower right-hand side.