My account is inactive. How can I re-activate my Aspire account?
To continue accessing your multi-currency accounts & spend/revenue management solutions, you may need to upgrade your Aspire subscription plan. You can take a look at our available subscription packages on our website.
For Finance and Employee Users
Reach out to your account Admin to upgrade your Aspire subscription. Access is returned once your subscription is upgraded.
For Admin Users
Please follow the steps below to upgrade your subscription plan :
Login to your Aspire account
Click on "Upgrade plan" button on the upper right side of the screen to view the details of the subscription packages you may avail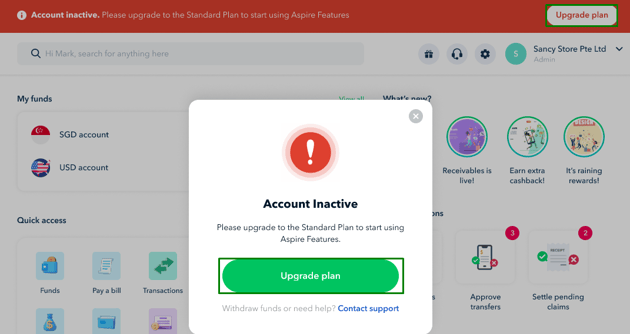 3. Click on "Upgrade to Business Account Pro Plan"
If you face issues, please reach out to our Support Team here.
Related articles on Subscription Plans:
Questions? Reach out in the chat at the bottom right corner of the screen.
---
Suggestions? Let us know here.