You would have to use your SGD SWIFT Account details to receive funds from abroad. If you do not have a SGD SWIFT Account activated yet, you can request for one as per "How do I activate my SGD SWIFT Account". Additionally, you will need to take note of the following information:
Any funds received in this account would be automatically converted to SGD and deposited in your Aspire SGD account after fee deduction. Please refer to "What is the rate for incoming SWIFT transfers?" for information on fees for incoming SWIFT transfers.
There is a difference between your SGD SWIFT Account and your SGD Local Account. Please do not provide your SGD Local Account details if you are expecting an international transfer. Direct international telegraphic transfers to your SGD Local Aspire account starting with 885215 is not yet accepted
You can receive funds from most countries listed in Which countries can I receive payments from?. Furthermore, please refer to What currencies can I receive from overseas? to view all supported currencies.


When sending funds to your account for the first time or receiving investment/funding, please notify us in advance and share supporting documents through this form.
If you are using an FX service provider
You may like to consider whether you should be entering your SGD local payment details or SGD SWIFT payment details, as the fees may vary depending on each option.
Some FX providers like Wise pay out SGD locally i.e. they make a local transfer to your account instead of making an international transfer. For such providers, you would save on fees by receiving the money directly into your Aspire SGD account via your local account details. If you're unsure, we would advise that you check with your provider on this.


Please be informed that we received feedback that funds received via HSBC are, in some instances auto-converted to GBP during the transaction process. However, as your account only supports SGD currency, the funds will be auto converted from GBP back to SGD once they are received into your Aspire account.
To avoid double conversion when receiving from HSBC, please request your sender to add "Do Not Convert" in the payment reference field."
If you would like to receive funds from the UK, you have two options to receive funds:
They can send you a SWIFT transfer (works for all supported currencies)
They can send you a transfer using local payment methods (works for GBP only)
If your sender sends funds via local payment methods (GBP only), the sender would ask you for a Sort Code and an account number. These are a part of your Account number/IBAN.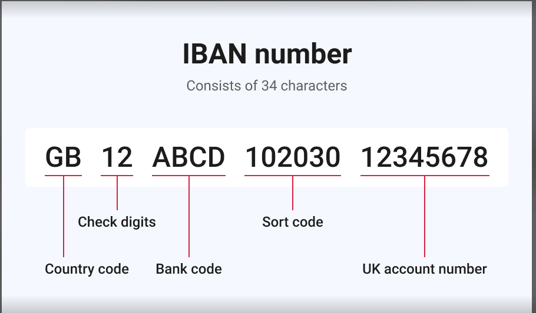 For example, your Account number/IBAN is GB12ABCD10203012345678:
Account number is the last 8 digits, i.e. 12345678

in the above example.

Sort code is the 6 digits after "ABCD", i.e. 102030

in the above example.



Questions? If there is any specific question you would like more details about, please let us know here or call us at +65 3165 1500 during business hours (Mon - Fri, 9:30 AM - 6:30 PM SGT).