Once a claim has been approved by an Admin or a Budget Owner, it will now be reviewed by an Admin or authorized approvers (if a Transfer Approval Policy is in place) for payout.
You can pay approved claims in Bulk or schedule a payment date for each. Access the link below to see the guide on how to do these:
How to pay claims in bulk
Go to "Claims

"

under

SPEND
Click on "Pay approved claims

" at the top

Tick the "Bulk pay" button, then select the claims you want to pay in bulk
Click "Pay", then "Make payment"

How to schedule a claim payment
Go to "Claims" under SPEND
Click on "Pay approved claims" at the top

Select the claim from the list, then click "Pay now"



Select "Modify payment", then click on "+ Schedule" button. A pop-up box will appear where you can place your desired transfer date, then hit "Continue"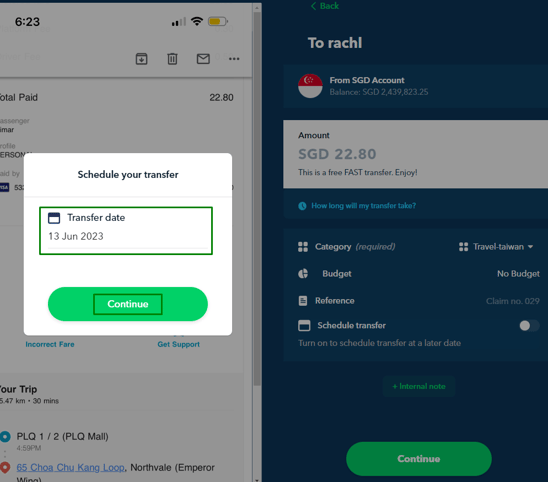 You should see the scheduled transfer date on the claim payment once done. If transfer details are good, click "Continue" and then "Confirm Payment"

For more information on Budget owners and their approval rights for claims see our article here.
Questions? Please log in to the app and reach out in the chat at the bottom right corner of the screen.
---
Suggestions? Let us know here.