How can I send local transfers from my Aspire USD Account?
Through our partner CurrencyCloud, Aspire allows you to send local transactions of foreign currency in its home country. This allows for time and cost savings when making international transfers.
Admins and Finance Users with transfer rights can send local transfers from Aspire USD account by following the steps below:
Go to your USD Account

, click on "

Make a transfer

"
Click on "New Recipient"
Select the currency* you wish to send, then place the account holder name, country and recipient type
Ensure to choose "Local Bank Account" Tab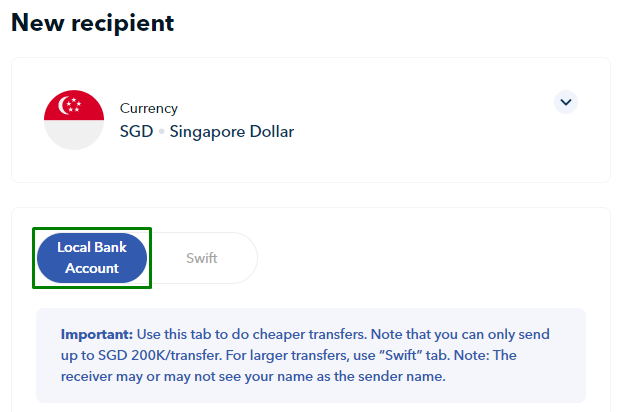 Place the rest of the account details of your client then follow the user flow
*Related article: What currencies can I locally send from my Aspire USD account?
Note:
For EUR & GBP local transfers, the receiver will see your company name as the sender of the funds.
For other currencies mentioned in this article, the receiver will see our partner's name (CurrencyCloud, Trustly, Vitesse, or NIUM) as the sender of the funds.
Questions? Please let us know here or chat with us during business hours (Mon - Fri, 9AM - 5.30PM SGT) by clicking on the green chat bubble on the lower right-hand side.