You can now request and create a physical card in-app!
Only Admin users or Budget owners can request a physical card for another user.
To request a physical card, follow the steps below:
Log in to your Aspire Account
Under SPEND click on "Cards"
Click on the blue "➕ New card" on the right-hand side
Select the user the card is for
Click on "Physical Card" under "What type of card will it be"?

Continue to fill out the rest of the card particulars, then click "Continue"
Indicate the card name and cardholder name, then click "Continue"

Select the address where you would like your card to be delivered, then click "Continue". Hit "Place order and pay" after reviewing your physical card request details, and you're done! Please allow up to 5 business days for delivery.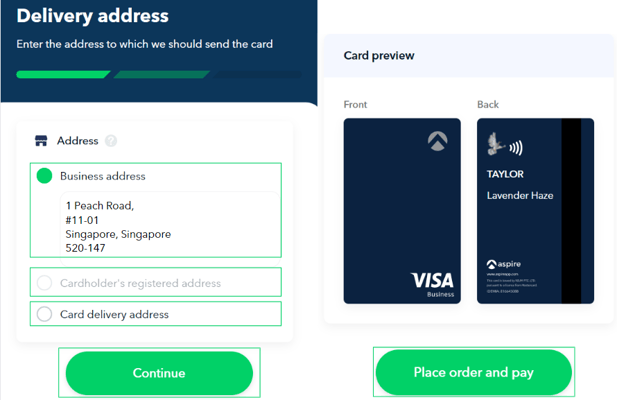 Physical card requests are only available for delivery in Singapore at this time. If your registered personal address is outside of Singapore, you cannot select it as a delivery address.
We suggest that you choose to have it delivered to your business address (if it's in Singapore), or manually enter a Singapore address under the "Card delivery address" option.
Reminder: Once the card is issued to a specific user, you can no longer re-assign it to another user and change the card's source of funds.

Note: The first physical card per user is FREE!
Subsequent cards for the same user are charged a 15 SGD processing fee.
The payment will be deducted from the SGD Account or Advance Limit for clients under Business Account and Spend Management Plans. You will receive an email with your invoice and payment confirmation.
See here for information on withdrawing cash with your physical card.
Questions? Please log in to the app and reach out in the chat at the bottom right corner of the screen.
---
Suggestions? Let us know here.