How to delete an invoice?
Admin and Finance Users can delete an invoice in any state.
Note: This will permanently delete your invoice. Invoices attached to matched transactions will be removed, and reminders deactivated. Make sure you really want to delete before you do!
To delete an invoice:
1. On the left-hand side of the page, click "Invoicing" under the "Receive Payments" section
2. Click on the invoice you would like to delete
3. If your invoice is in draft status, it will look like the one below. Click the "delete" button in the top right-hand corner

4. If in any other stage (due, overdue, paid), click on the invoice and scroll down to the bottom for the "Delete Invoice" Button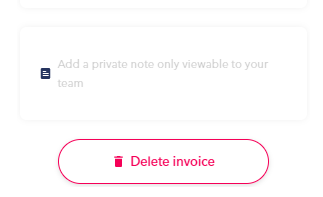 5. You will see a prompt to make sure you are ok to delete this invoice. If you are, go ahead and click on "Yes, Delete". This invoice is now removed from your dashboard, and the ability to view it is gone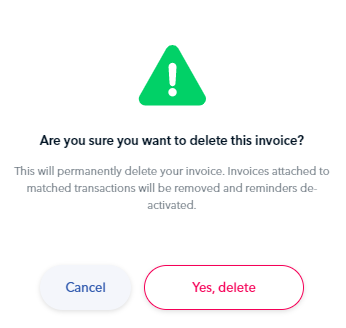 Questions? Please log in to the app and reach out in the chat at the bottom right corner of the screen.
---
Suggestions? Let us know here.