An Admin at Aspire can assign you to one of the three user roles mentioned below:
Admin

This user role is created only for appointed Company Directors.
These are the users who have unrestricted access to the Aspire account. Admins can add/remove users, transfer money, create/manage budgets, manage accounting and view all the financial details of the account.
Finance

This user role is more suited for the executives and finance team who can manage accounting/budgets, transfer money and view the financials of the account. For more convenience, we have divided this role into three parts:
Finance Transfer Rights
: These users can make a transfer and approve submitted transfers for the account.
Finance Submit Rights
: These users can only submit a transfer which will be executed after approval.
Finance No Transfer/Submit Rights
: These users are not allowed to make/submit any financial transfer.
Employee

This user role is ideal for team members or employees. Employee users will only be granted access to use the issued Aspire cards, and will not be able to view the account balance.
Please Note:
When selecting the Finance role, you can invite users with specific cards, or with no cards. Users without cards can later be issued a card when required.
Admins can revoke/edit access rights of other users at any time, except for other Admin users. To change the access of another Admin, please send us an email at support@aspireapp.com or click here with your request and a supporting Board Resolution signed by the board of directors.
For more details on the user roles, please check the screenshot attached below: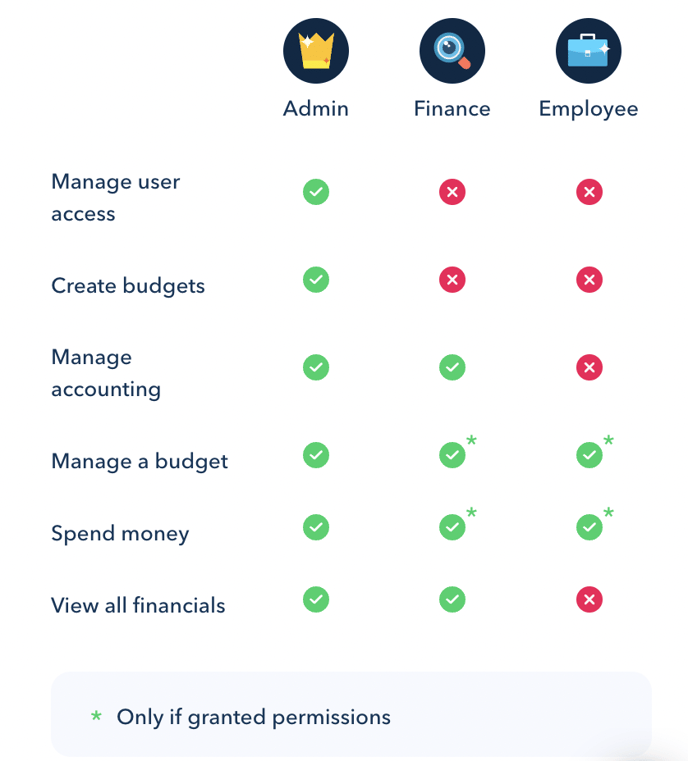 Questions? Email us at support@aspireapp.com or chat with us during business hours (Mon - Fri, 9.30 AM - 6:30 PM SGT)