Admin and Finance users with transfer rights can send SWIFT transfers from their Aspire USD account. They can also send local transactions in foreign currency within the recipient's home country, saving time and cost for international transfers.
To send transfers from your Aspire USD Account:
1. Go to your USD Account, click on "Submit a transfer"
2. Click on "New Recipient"
3. Select the currency you wish to send, then place the account holder name, country and recipient type
4. To send a local transfer*, be sure to select the "Local Bank Account" tab.


5. Enter the recipient's bank details and proceed by clicking the "Continue" button
6. Enter the amount you wish to send and fill in other transfer fields. Once completed, click the "Next" button.
- Link the transaction to a budget
- Payment Reference (maximum 132 alphanumeric characters ONLY)
- Internal note (only shown in your Aspire account)
- Other payment reference fields
SWIFT transfers may have intermediary bank fees deducted from the sent amount, which vary between $7 - $60 based on the correspondent banks used.
To avoid this, toggle the "Pay USD 15 extra and fix this amount" button to ensure the recipient receives the exact amount.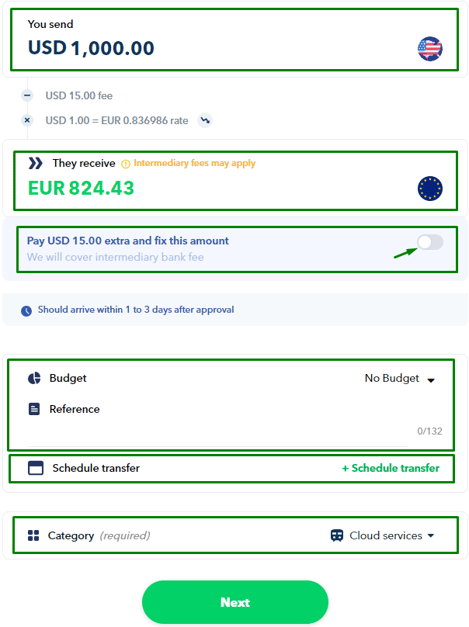 7. Once you have reviewed your payment details and are satisfied with them, click the "Confirm" button
Note:
For EUR & GBP local transfers, the receiver will see your company name as the sender of the funds.
For other currencies mentioned in this article, the receiver will see our partner's name (CurrencyCloud, Trustly, Vitesse, or NIUM) as the sender of the funds.
If you are initiating a SWIFT transfer and your business name is longer than 35 characters, please include the full business name in the Payment Reference field. Field 50 (Payer Name) of the MT103 has an inbuilt limitation by SWIFT of 35 characters.
If you experience an error when making the transfer, contact our Support team and attach a screenshot of the error message so we may further assist you.
Questions? Please log in to the app and reach out in the chat at the bottom right corner of the screen.
---
Suggestions? Let us know here.