You can integrate your DBS USD Account with Stripe Singapore to receive USD payouts.
Note! Your Stripe account is based in the country you selected when setting it up.
If your Stripe account is registered in Singapore (Opened in Singapore)
You can integrate Stripe with your USD account details under DBS to receive USD payouts:
Login to your Stripe Account then head over to "Settings"
Under Business Settings, select "External payout accounts and scheduling"

Under Settlement currencies and bank accounts, click "Manage currencies"

Change the currency to USD - US Dollar, then click "Add currency"

USD currency will be added to your bank list. Click "Add a bank account" link to place your DBS USD Account details and you're done!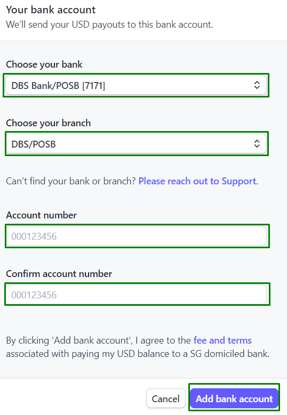 If your Stripe account is registered in the USA (Opened in USA)
Unfortunately, integrating your DBS USD account to your Stripe account registered in the USA is not available now. This is because Stripe requires the USD account to be based in the USA. Your DBS USD account is based in Singapore, not in the USA.
Alternatively, you may explore activating Aspire's USD Account under CurrencyCloud to have local USD account details domiciled in the USA (subject to approval).
Once you're able to activate your USD Account under CurrencyCloud, you can check our guide here on how you can integrate it into your Stripe USA account.
Questions? Please let us know here or chat with us during business hours (Mon - Fri, 9AM - 5.30PM SGT) by clicking on the green chat bubble on the lower right-hand side.